Revised September 17, 2007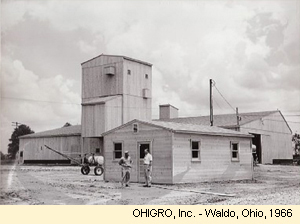 On September 4th, 1965, business partners James Ward, Clois Dudgeon and O.J. Weiker officially incorporated OHIGRO, Inc. The following spring, OHIGRO opened for business in Waldo, Ohio with Jim Ward as the Plant Manager. At that time, OHIGRO consisted of only three full-time employees and one fertilizer shed, which also housed the accounting "department" in the building's pump room. Hoping the phone wouldn't ring when the air compressor was making too much noise, Millie Ward (Jim's wife) did all of the company's "bookwork" from that dusty office during that first year. Eager to get the business started, fertilizer was delivered to the new building before it could even be sided, so it had to be surrounded with plastic once the rain started coming down. Chuck Ward, Jim's brother, assisted in the mixing and delivering of dry fertilizer to OHIGRO's customers. Looking back, Jim often wonders how they got anything done that first year, but they undoubtedly did.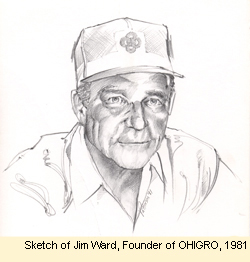 Over the next few years, OHIGRO, Inc. quickly grew and expanded operations by building an office in the fall of 1966 and modernized by purchasing its first "floater-spreader" in 1969. In 1970, a seed house was constructed, liquid fertilizer tanks were purchased, and a "new and improved" fertilizer shed was built. As the Waldo plant began to flourish, OHIGRO expanded to "two locations to serve you," purchasing a plant in Richwood, Ohio in 1973. The purchase of a Richwood branch gave OHIGRO a second facility as well as a second generation of management. Jim's second son, Jerry, served as Plant Manager for Richwood.
In the decade that followed, OHIGRO continued to slowly grow, establishing a solid reputation in the community. What was once a company with just a few employees, now had several dozen on the payroll and a growing list of loyal customers.
With hard work and a continued emphasis on customer service, OHIGRO continued to grow over the years. The '80s brought many changes to the agricultural industry, and OHIGRO, Inc. as well. With new equipment, technology, and many new faces, OHIGRO continued to serve central Ohio farmers. By its twentieth anniversary, OHIGRO, Inc. had twenty full-time employees. Later that fall, after twenty years of partnership, Clois Dudgeon resigned from his board position at OHIGRO, Inc.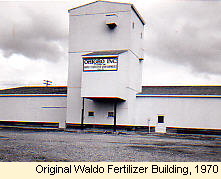 In the spring of 1989, OHIGRO, Inc. expanded its business yet once again by purchasing the Delaware Farmer's Exchange, and beginning the subsidiary company, OHIGRO South, Inc. This acquisition gave OHIGRO new customers, a new area, and new competition in the marketplace. After six successful years in business, OHIGRO South, Inc. would sell the feed and grain division, once again allowing the folks at OHIGRO to concentrate on fertilizer, seeds, and chemical sales and services. With Delaware County becoming one of the fastest growing counties in the United States, OHIGRO's Delaware Plant began serving more than just the traditional farm customer base. A rapidly growing urban population and landscape community quickly began to rely on OHIGRO's various lawn seeds, pond chemicals and Bounty bagged fertilizers.
The thirtieth anniversary of OHIGRO, Inc. brought about the consolidation of the two company identities, OHIGRO, Inc. and OHIGRO South, Inc., into one. With this merger also came a renewed consolidation of efforts on the part of the growing and diverse staff of the three plants of OHIGRO, Inc. The challenge for the approaching new millennium would remain much as it had been when the company first started; continue the same standards of service that OHIGRO had become known for, while at the same time looking for new and exciting ways to communicate and do business with growers in the Central Ohio area.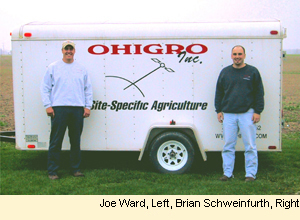 Finding ways to integrate technology into the process quickly became the hallmark of the new decade. Late in 2000, the decision was made to begin centralizing much of the company's bookkeeping by Jeffrey Ward, Jim Ward's oldest grandson. OHIGRO also launched a website, www.OHIGRO.com, an informative new resource for customers containing everything from agricultural news to notes from OHIGRO's salesmen and managers. As the website continued to be developed, information was added on OHIGRO's many services and products, as well as some company history and contact information. Meanwhile, OHIGRO began to get more involved in site-specific services, utilizing satellite-equipped four-wheelers and pocket PCs to accurately grid sample an average of seventy-five acres per hour. In all, site-specific services – including VRT (variable rate technology) lime and fertilizer application, tile mapping and yield processing – would become a growing portion of the company's business, helping many of OHIGRO's customers get to the next level of yields and profitability.
For forty years, OHIGRO has been a family owned and operated agricultural retailer striving to be a "full service" company. A lot has changed in those forty years. Four decades ago, 6-row planters were the largest around and it was assumed that you couldn't raise a good crop without plowing and working the ground at least twice. OHIGRO's first sprayer was an old converted semi tractor with a single nozzle that covered 20 feet in one pass. Today, we live in a world of 24-row planters, no-till farming, GPS equipment and we spray with 90-foot booms at twice the speed. The changes, of course, extend beyond equipment. Genetics in seed varieties have helped increase yields two fold. And with each step and every new trend, OHIGRO has been there along the way.
Offering retail and wholesale agricultural fertilizers, chemicals, and seeds, as well as a variety of services such as custom application, grid sampling, and seed cleaning has given OHIGRO a leading edge in the community. As the ever-changing world of agriculture continues to make use of advancing technology, OHIGRO again is interested in finding new ways to meet the growing demands of the Central Ohio farmers. The utilization of new emerging technologies shows that OHIGRO has come a long way since its inception in the mid '60s. Certainly, many things have changed over the years, but the primary goal remains the same. Serve the customer!